DM3559 Digital Multimeter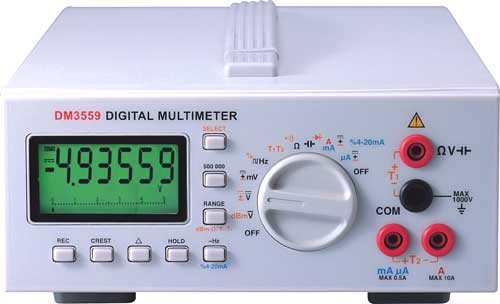 ¡@
All-Bright DM3550 5-4/5 digits, 500,000 Counts Bench Digital Multimeter, provide you professional, stable, accuracy, and high resolution measurements. With a variety of functions, you can use it in any part of manufacturing processing from product developing, assembly testing to quality control. There are 2 models available, DM3557 and DM3559 (with RS-232 interface), which provide you the most cost effective choice.
¡@
---
¡@
¡@
FEATURES
¡D5-4/5 digits 500,000 counts DC voltage stable mode.
¡D6 digits 999,999 counts mode for Hz with 0.002%.
¡DHigh basic DCV accuracy (0.02% for DM3559, 0.03% for DM3557), fast measurement 5/sec.
¡DHigh bandwidth (100KHz for DM3559, 20KHz for DM3557) AC/AC+DC true RMS voltage function.
¡DHigh general (Ohm, capacitance e.g.) input protections (1000V for DM3559,600V for DM3557).
¡DT1-T2 dual channels K-type ¡V50¢J to 1000¢J (only for DM3559).
¡DOptically isolated RS-232 PC interface capability (DM3559 only).
¡DSoftware for Windows 95/98TM (DM3559 only).
¡DAuto-ranging record MAX, MIN, MAX-MIN reading.
¡DData hold, relative zero mode.
¡DHigh speed analog Bar-Graph updates 60/sec.
¡DDCV from 0.001mV to 1000V, ACV from 0.01mV to 1000V, DCA/ACA from 0.01£gA to 20A.
¡DOhm from 0.01 to 50M , capacitance from 10pF to 9999£gF.
¡DLine level frequency with 4 selectable trigger levels.
¡DDigital logic level frequency from 5 Hz to 2MHz.
¡DDuty cycle % reading, diode test.
¡D%4-20mA process control loop current reading.
¡DdBm reading with 20 selectable impedance values.
¡DHigh-speed auto-ranging, fast audible continuity <100£gS.
¡DBack-light large easy to read LCD display.
¡@
---
SPECIFICATIONS
DC Voltage Range & Accuracy
Range
DM3559
DM3557
500.00mV,
5.0000V,
0.02% + 2d
0.03% + 2d
50.000V
¡@
¡@
500.00V
0.04% + 2d
0.05% + 2d
Input Impedance: 10M£[ // 30pF nominal
(80pF nominal for 500mV Range)
Ohms Range & Accuracy
Range
DM3559
DM3557
500.00£[
0.07% + 10d
¡@
5.0000K£[
¡@
0.1% + 6d
50.000K£[
0.07% + 2d
¡@
5.0000M£[
0.2% + 6d
0.4% + 6d
50.000M£[
2.0% + 6d
2.0% + 6d
O.C.Voltage : <1.3VDC (<3VDC for 500£[)
Capacitance Range & Accuracy
50.00Nf
0.8% + 3d
500.0nf
0.8% + 3d
5.000uF
1.0% + 3d
50.00uF
2.0% + 3d
500.0uF
3.5% + 5d
9999uF
5.0% + 5d
Accuracy with Film Capacitor or Better

DC Current Range & Accuracy
500.00uA
0.15% + 20d
5000.0uA
0.1% + 20d
50.000mA
0.15% + 15d
500.00mA
0.1% + 20d
5.0000A
0.5% + 10d
10.000A
* 0.5% + 20d
*10A Continuous, 20A for 30 Second Max with
5 Minutes Cool Down Interval
Audible Continuity Tester
Audible Threshold: Between 20£[ and 200£[
Response Time < 100uS
dBm
At 600£[, -11.76dBm to 54.25dBm
Accuracy: 0.25dB + 2d (@40Hz to 20KHz)
Selectable Reference Impedance Values of 4, 8,
16, 32, 50, 75, 93, 110, 125, 135, 150, 200,
250, 300, 500, 600, 800, 900, 1000, 1200£[
Input Impedance: 10M£[ // 30pF nominal

AC / AC+DC Voltage Range & Accuracy
¡@
DM3559
DM3557
20Hz to 45Hz
500.00mV,
5.0000V
1.5% + 40d
¡@
50.000V
¡@
Unspec'd
500.00V, 1000.0V
Unspec'd
¡@
45Hz to 300Hz
500.00mV
0.3% + 20d
¡@
5.0000V, 50.000V
0.8% + 20d
0.8% + 60d
500.00V, 1000.0V
0.4% + 40d
¡@
¡@
300Hz to 5KHz
300Hz to 1KHz
500.00mV
0.3% + 10d
0.8% + 40d
5.0000V, 50.000V,
0.4% + 40d
2.0% + 60d
500.00V
¡@
¡@
1000.0V
0.8% + 40d
1.0% + 40d
¡@
5KHz to 20KHz
1KHz to 20KHz
500.00mV
0.5% + 20d
1Db **
5.0000V, 50.000V
0.8% + 20d
2dB **
500.00V
0.5% + 20d
3dB **
1000.0V
Unspec'd
Unspec'd
20KHz to 100KHz
500.00mV
2.0% + 40d
¡@
5.0000V, 50.000V
4.0% + 40d **
Unspec'd
500.00V
Unspec'd
¡@
1000.0V
¡@
¡@
Input Impedance: 10M£[ // 30pF nominal
(80pF nominal for 500mV Range)
Residual Reading less than 50d with Test Leads Shorted
* From 5% to 10% of Range :
Accuracy % of Reading (or in dB) + 80d
** From 5% to 10% of Range :
Accuracy % of Reading (or in dB) + 180d
* *From 10% to 15% of Range :
Accuracy % of Reading (or in dB) + 100d
1000V Frequency Range to 1KHz

T1-T2 Dual Temperature (DM3559 Only)
Range
Accuracy
-50.0¢J to 1000.0¢J
0.3% + 1¢J
-58.0¢K to 1832.0¢K
0.3% + 2¢K
Thermocouple Range & Accuracy not Included
Diode Tester
Range
Accuracy
Test Current
Open Circuit
¡@
¡@
Typical
Voltage
5.0000V
1% + 1d
0.8mA
< 3.5VDC
DC Loop Current %4-20mA
4mA=0%(Zero), 20mA=100%(Span)
Resolution: 0.01% Accuracy: ¡Ó25d

AC / AC+DC Current Range & Accuracy
Range
DM3559
DM3557
50Hz to 60Hz
500.00uA
¡@
¡@
5000.0uA
¡@
¡@
50.000mA
0.5% + 50d
1.0% + 40d
500.00mA
¡@
¡@
5.0000A
¡@
¡@
10.000A *
¡@
¡@
40Hz to 1KHz
500.00uA
¡@
¡@
5000.0uA
¡@
¡@
50.000mA
0.7% + 50d
1.0% + 40d
500.00mA
¡@
¡@
5.0000A
¡@
¡@
10.000A *
¡@
¡@
1KHz to 10KHz
500.00uA
¡@
¡@
5000.0uA
2.0% + 50d
Unspec'd
50.000mA
¡@
¡@
500.00mA
¡@
¡@
5.0000A
Unspec'd
Unspec'd
10.000A *
¡@
¡@
*10A Continuous, 20A for 30 Second Max with
5 Minutes Cool Down Interval

AC Hz Line Level Frequency
Range
Accuracy
5.0000Hz to 200.000KHz
0.002% + 4d
Sensitivities (Sine Wave):

0.1V min

@500mV Range

1V min

@5V Range

10V min

@50V Range

100V min

@500V Range

900V min

@1000V Range
Logic Hz Logic Level Frequency
Range
Accuracy
5.0000Hz
0.002% + 4d
to 2.00000MHz
¡@
Sensitivity : 2.5V Square Wave
% Duty Cycle
Range
Accuracy
0.1% to 99.99%
3d/KHz + 2d
Input Frequency: 5Hz to 500KHz, 5V TTL Family
Crest Mode (Instantaneous Peak Hold)
Accuracy: Specified Accuracy ¡Ó100d for changes
>0.8msec in Duration
General Specification
Power Supply : AC115V/230V¡Ó10%, 60/50Hz Switch Selectable
Power Consumption : Approx. 6VA
Operation Humidity/Temperature Range : 80% R.H. (+5¢J to 31¢J), 50% R.H. (+31¢J to 40¢J)
Storage Temperature/Humidity Range : -10 to 60¢J, <80% R.H.
Warm-up Time : Approx. 30 min.
Dimensions : 213(W) x 88(H) x 394(D) mm
Net Weight : 3.6Kg
Accessories : Power Cord x1, Operation Manual x1, Test Lead x1set, K-Type Thermocouple x1(DM3559 Only), RS-232 Software(floppies) x1
Products list | brand | Model No. | Home