Multipurpose Thermometer for Heating, Ventilation, Air Conditioning & Refrigeration Inspections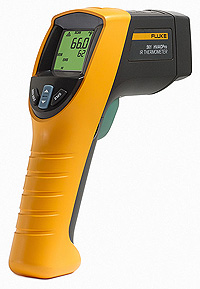 Lighten up your toolbox with the one tool that combines the temperature measurement functions that professionals need most for inspecting heating, ventilation, air conditioning and refrigeration systems. The Fluke 561 HVACPro provides both non-contact and contact temperature measurements, replacing several other test tools. It is fast, efficient and easy to use, saving you valuable time and effort.
Use the infrared (IR) thermometer to measure hot, moving, electrically energized and hard-to-reach objects instantly.
Check motors, insulation, breakers, radiant heating, pipes, corroded connections and wires plus scan ducts in the ceiling from the floor without a ladder.
Handy Velcro pipe probe included for superheat and sub-cooling contact measurements
Or plug in your own industry-standard K-type thermocouple probes and get the most out of your tool investments.