Fluke 60 Series Handheld Infrared Thermometers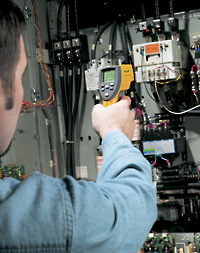 Fluke knows temperature, with more than two decades of thermometry experience. Today, we offer the latest in non-contact IR temperature test tools, probes, accessories, and application expertise for a complete range of applications. And Fluke backs its tools with the industryˇ¦s best warranty and highest rated customer service.
Reach for a rugged Fluke 60 series IR thermometer for jobs requiring temperature measurement in hard-to-reach, hot, rotating, or dangerous situations Get accurate readings over a broad range of temperatures -40˘XC to 760˘XC (-40 ˘XF to 1400 ˘XF). Plus, the enhanced optics allow you to measure smaller objects further away. All with a comfortable and easy to use handheld device.
Now Introducing the Fluke 62 Mini!
The Fluke 62 Mini non-contact thermometer is the perfect introduction to infrared (IR) thermometers for the professional. With the best accuracy in its class, the Fluke 62 Mini offers quick and reliable surface temperature readings. This compact and portable tool enables professionals to diagnose heating and ventilation problems and monitor the temperature of electrical motors and electrical panels without contact. Rugged enough for industrial environments with its protective rubber ˇ§bootˇ¨, the 62 Mini also comes with a handy nylon holster, keeping quick temperature checks at your fingertips.