CG SERIES
¡@
AC GROUND CONTINUITY TESTER
¡@
¡@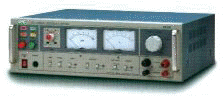 ¡@
¡@
IDRC CG SERIES is able to perform resistance measurement and testing of ground continuity of electrical equipment as established by safety.
The test current can be set as desired over a range from 3~30A (Measuring range : 0~0.1 and 0~0.5).
If the test current shifts from the prescribed value during testing a warning alarm is sounded to prevent improper measurements before they occur.
The testing can be performed by simply pushing the start button, and accurate four wire measurement method is used in measuring.
It's also able to perform Hi-Limit by subtracting surrounding resistance value through the use of offset function.
With it having a remote control function for controlling starting and stopping, this resistance tester will allow you to make great progress in making your testing
¡@

Features:
1.Test Current Adjustable ( 3~30A)
2.Continuity Test & General Test
3.Four-terminal Method Test
4.Multisingle Output
5.Test timer arbitrary input
6. 3 U Outline
¡@

Apply industrial:
Lighting ,Home appliance ,Business machine
Computer commerce ,Monitor ,Electrical ,UPS...etc.
Conform: IEC.CEE.BS.VDE.AS.TUV.UL.JEC.CSA.JIS....etc
---
Products list | brand | Model No. | Home