Digital Multimeter VOAC7602
<![if !vml]><![endif]>

<![if !vml]><![endif]>

6 -1/2digits
4.3 inch high-resolution LCD screen
The high sampling rate : max.30kS/s

Histogram display

Trend chart display

Temperature

Frequency

Math

<![if !vml]><![endif]>

<![if !vml]><![endif]>

<![if !vml]><![endif]>

<![if !vml]><![endif]>

<![if !vml]><![endif]>
<![if !vml]>

<![endif]>
<![if !vml]>

<![endif]>
Various of display functions
| | |
| --- | --- |
| <![if !vml]><![endif]> | Using the high-resolution LCD screen, you can view the measured values while watching the average, the maximum and the minimum values. Moreover, VOAC7602 enables you to observe the statistical values while viewing the Trend and the Histogram charts. Other than those above, there are various kinds of combinations of displays available to be shown aside and these can be chosen from many functions, such as LIMIT function, and Analog meter display, which is effective for analog judgment. |

<![if !vml]><![endif]>

<![if !vml]><![endif]>

Real-time value + Maximum value, Minimum value, Average value

Real-time value(ACV+FREQ) + Analog meter display

<![if !vml]><![endif]>

<![if !vml]><![endif]>

Real-time value + LIMIT function

Real-time value + Analog meter display + LIMIT function

<![if !vml]><![endif]>

<![if !vml]><![endif]>

Real-time Trend chart display + LIMIT function

Real-time histogram chart display + LIMIT function
Easy-to-understand display screen
<![if !vml]>

<![endif]>。
<![if !vml]>
<![endif]>
Quick saving of log memory on the screen
<![if !vml]><![endif]>

You can store the log information in USB memories by a simple operation. No difficult settings are required and this is useful when you have to perform a lot of measurement.
If you store your configurations into internal memory, you can start your measurement immediately as you can bypass setting configurations again.
<![if !vml]>

<![endif]>
Large capacity :100k data memory for logging
| | |
| --- | --- |
| <![if !vml]><![endif]> | Thanks to the large memory, you can store data with timestamps for more than 24 hours even if you measure once a second. The equipment always keeps logging. You won't miss any of the data. |
Digital Multimeter VOAC7602 Function
<![if !vml]>

<![endif]>
| | |
| --- | --- |
| The measurement in the BULK stops the other functions than measurement data acquisition when measurement is done. Therefore, logging can be done while ensuring the sampling rate of up to 30kS/s. The measured data is kept in log memory, and Trend chart and Histogram chart can be displayed by offline browse function. The data can be stored in a memory as well. | <![if !vml]><![endif]> |
Pre-trigger function utilizing log memory effectively (New)
VOAC 7602's bulk mode can stop loading levels of measurement values, LIMIT judgment result, External trigger, etc. , by setting "Stop Event". This triggering can be used in similar way to oscilloscopes' pre-trigger function. You can focus on data taken around when the event occurred. In addition, as log memory has 100k readings, a long time data can be loaded with high resolution at high speed sampling. Moreover, As this multimeter can accept "Stop Event" just after start of the logging, you do not need to wait for the time which inhibits the trigger even if sampling rate is low. So, the loading time will be minimized.
<![if !vml]>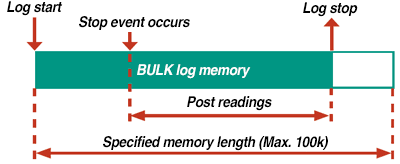 <![endif]>
A long time logging is available with long time memory.
VOAC7602 has a large memory, which can store the log for up to 100k points.
Example: Logging more than one day is available when sampling rate is 1 time/sec.
Sampling rate
( samples/s)

1

4

20

100

500

1k

2k

7.5k

15k

30k

Loading time
( h : m : s)

27:46:40

6:56:40

1:23:20

0:16:40

0:03:20

0:01:40

0:00:50

0:00:13

0:00:07

0:00:03
Offline/Histogram chart display, being useful for Yield ratio measurement (New)
Display the data loaded into the log memory in a histogram chart, so that you can measure the yield rate easily by cursor operation.
So far this rate was calculated by PC, this will improve your work efficiency at significant level. The LIMIT judgment can be performed on site.

<![if !vml]><![endif]>

The number of times within the ranges specified by cursors, and the ratio will be displayed in percentage figures (%).
Since indexes suitable for the basis such as voltage can be set as x-axis, you intuitively understand the ratio of acceptance/rejection criterion.
Offline-Trend chart display: Temporal alteration of measurement value shown (New)
Besides the display function such as an oscilloscope's, the function to recalculate the statistical data within the cursor range will help you get the statistical data for the range you need. As you can save the display data in USB memory, this function will improve working efficiency furthermore.

<![if !vml]><![endif]>

<![if !vml]><![endif]>
Highly-improved LIMIT function (New)
VOAC7602 can perform the advanced analysis based on the result of LIMIT function, and this will be performed by easy operation. This product gives you clear answers to your most difficult questions such as how many troubles happened, when they happened and so on.

The right figure gives the answer to:

<![if !vml]><![endif]>

"How many troubles happened"

The right figure gives the answer to:

<![if !vml]><![endif]>

"When they happened"
Easy extraction of necessary parts by offline cursor function (New)
<![if !vml]><![endif]>

<![if !vml]><![endif]>
Various kinds of trigger functions to meet market needs
Interval trigger function

<![if !vml]><![endif]>

This function repeats measurement at fixed time interval until such measurement is performed certain times specified in advance.

Trigger delay function

<![if !vml]><![endif]>

This function let you set the delay time from the trigger input to the first data measurement. You can delay the measurement timing of the production facilities and measure the data after the facility become stable.
Digital Multimeter VOAC7602 Specifications
<![if !vml]>

<![endif]>
<![if !supportLineBreakNewLine]>
<![endif]>
Basic performances

Display

Display digit

Measurement speed

6 1/2 digits

Full scale 1199999

50S/s
(60S/s Power Freq. at 60Hz)

5 1/2 digits

Full scale119999

30kS/s
<![if !vml]>

<![endif]>
Measurements

DC Voltage

Range

100mV - 1000V

Input impedance

1GΩ or more, or 10MΩ

Input bias current

<30pA

AC Voltage

Range

100mV - 750V

Frequency

20Hz - 300kHz

Crest Factor

Less than 5

Input impedance

1MΩ //100pF

AC filter

20Hz, 200Hz

Resistance(2WΩ4WΩ)

Range

100Ω to 100MΩ

DC current

Range

1mA to 3A

AC current

Range

1A,3A

Continuity measurement (CONT)

Yes

Diode measurement (DIODE)

Frequency measurement (FREQ)

3Hz to 300kHz

Temperature measurement (TEMP)

Thermocouple (TYPE- R, K, T, J ,E) Manual input of

cold junction temperature , RTD (2-wire or 4-wire)
<![if !vml]>

<![endif]>
Interfaces

Standard

USB2.0

Optional

LAN&RS-232(SC-361) / DIO(SC-362) / GPIB(SC-363)
<![if !vml]>

<![endif]>
Functions

Difference operation (NULL)

Yes

Moving average operation

2 - 100 times

Statistical calculation (MAX/MIN/AVG/SDT)

Yes

LIMIT judgment

Scaling operation

Decibel operation

Measurement data memory(logging)

100k Readings

Pre-triggering / level triggering

Supported by the latest firmware

Panel setup memory

Internal 10 + USB Storage memory

Panel setup sequence

Internal memory (Optional RS-232 is required)

Analog meter display

Yes

Panel lock function

Interval measurement

Trend chart display

Real Time

Yes

Offline

Supported by the latest firmware

Cursor & Search

Histogram display

Real Time

Yes

Offline

Supported by the latest firmware

Cursor & Search

USB host

Panel setup, measurement data and hard copy can be stored in USB memory
<![if !vml]>

<![endif]>
Dimension / Weight

Dimension (mm)

Approx. 225W × 100H × 366D(Excluding the protrusion part)
Approx. 213W × 88H × 356D (Excluding the protector part)

Weight

Approx. 3kg

Protector

Yes
<![if !vml]>

<![endif]>
Others

Operating temperature and humidity range

0°C to 50°C (+40°C 80% or less comparable volume water) and no condensing

Storage temperature and humidity range

-20°C to +60°C (+40°C 90% or less comparable volume water)and no condensing

Power supply and Power consumption

AC100V,50/60Hz, less than 21 VA
110V / 220V / 240V(Optional)

Accessories

Test leads, Fuse, CD-ROM Operation manual, Power cord
Digital multimeter VOAC7602 option
<![if !vml]>

<![endif]>
■ Option
SC-361

LAN&RS-232 interface

*Factory option


*This interface SC-361 cannot be used with SC-363 (GPIB interface).

<![if !vml]><![endif]>

SC-362

DIO interface

*Factory option

<![if !vml]><![endif]>

SC-363

GPIB interface

*Factory option


*This interface (SC-363) cannot be used with SC-361 (LAN&RS-232 interface).
<![if !supportLineBreakNewLine]>
<![endif]>

<![if !vml]><![endif]>

SC-004

Test lead for high resistance


Shielded cable for high resistance under 100 MΩ

<![if !vml]><![endif]>

TKL 90cm BAN(pmk)

4-wire kelvin test lead (4-terminal resistance measurement)


Length : 90cm

<![if !vml]><![endif]>

KELVIN: S

IC lead compatible with 0.2 to 0.5 pitch, linear: 0.08mm

KELVIN: M

IC lead 0.5 to 1.0 pitch compatible, linear: 0.2 mm

KELVIN: L

IC lead 0.8~2.54 pitch compatible, linear: 0.3mm

4-pin resistance measurement micro clip

(MECHANO ELECTRONIC. INC.)

<![if !vml]><![endif]>

SC-0107

Sheath type K thermocouple (Type-K)


* You should put cold junction temperature by hand with VOAC7602.

* This cannot be used with VOAC7502.

<![if !vml]><![endif]>

SC-0116

Surface thermocouple (Type-K)


* You should put cold junction temperature by hand with VOAC7602.

* This cannot be used with VOAC7502.

<![if !vml]><![endif]>

SC-020

Test lead


Standard attachment

Red : 1

Black : 1

<![if !vml]><![endif]>

SC-026

Arrow clip for SC-020


AC30V/DC60V 3A

<![if !vml]><![endif]>

SC-023

Alligator clip H for SC-020


Pressure resistance : 600V/10A, CE

<![if !vml]><![endif]>

SC-028

Current clamp probe


DC180A, AC130A

Sensitivity : AC/DC/10mV/A

<![if !vml]><![endif]>

SC-525

USB-RS converter


Conversion cable for RS-232 & USB

<![if !vml]><![endif]>