MEC 880 Waveform Copier



Photographs screens!! Easy-to-use CCD Camera with Built-in Printer
Waveform copier MEC880 is a camera with a built-in printer, which can be used for photographing with oscilloscopes and other equipments. The MEC880 is 100% digitized, using CCD (charge coupled device). Input images are immediately output to the printer. Eight different camera hoods are available, ensuring that the camera fits the individual screen size of each subject.
Even if your device has a print function, considerable time is often required to locate your printer and connect cables. With the MEC880, you can obtain a printout of your screen anywhere, and from any source. Moreover, operating costs are just 1.9 US¢ per sheet.
¡@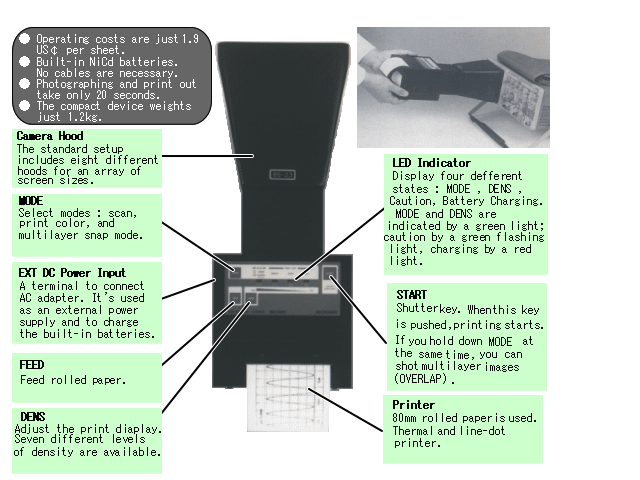 ---
Fully Digitized Device Means More Functions
Normal photographing (NORM Mode)
Simply press the START key. / Printing will be completed in 20seconds.
¡@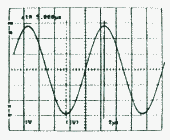 ---
Multilayer photographing (Overlap)
Press the MODE and START keys simultaneously. Output will overlap the previous and current images. Repeat as many times as desired.
The image at the right is an example of a three-layer photographing.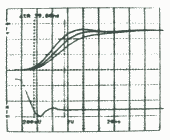 ---
Slow scanning screen photographing (SL and SGL Mode)
The shutter speed in the NORM mode is 1 / 6seconds. For example, if an oscilloscope sweeps at a rate of 2ms / div or slower or at single scan mode, the screen will be cut off. In this case, use the SL and SGL mode. Press START to take a photo, then press again to finish.
---
Auto Power On and Off Function
To prevent the built-in batteries from being exhausted quickly, power is automatically turned OFF three minutes after printing or after the last key operation. Power supply can then be resumed by pressing any key.
---
Print Color (Reverse black and white)
BRIGHT: Print black where the original subject is bright and white where the original is dark.
[Application] Photographing of CRT, such as an oscilloscope.
¡@
DARK: Print white where the original subject is bright and black where the original is dark.
[Application] Photographing of a Liquid Crystal Display (LCD)
¡@
B and D: Print black where the original subject is either bright or dark, and white where the original is neither.
Appropriate for emphasizing outlines.
[Application] Photographing of electronic device, printed circuit boards, and small units.
¡@

BRIGHT

DARK

B and D
---
Print Density (DENS)
If there is insufficient light, the print will be somewhat colorless. Change DENS to obtain a better image quality.
¡@

DENS1

DENS4

DENS7
---
Warning Messages
INTEN: When the subject is too bright, the green LED indicator flashes.

: When the power level of the built-in batteries is low, the green LED indicator flashes.

: When the printer runs out of paper, the green LED indicator flashes.

:When the printer head is overheated, the green LED indicator flashes.
---
POTENTIAL APPLICATIONS INCLUDE :



Data recording in a laboratory / environmental experiment room
Recording as much of the experimental process as possible, and recording waveforms that vary according to the ambient conditions, will make the process more efficient and make it possible to create better quality products.

Submitting quality control data to customers
Images are more credible and convincing than numbers. With the MEC880, the time and cost required to obtain data are also significantly decreased.

Data and materials for meetings called to solve problems
Working with others is often the best way to solve those problems that you can 't solve on your own. But meeting require adequate data, which is usually better presented visually, rather than in numeric form. The MEC880 makes this easy to do, while, at the same time, keeping costs to a minimum.

Collecting customer data and gathering data outdoors
Carrying a lot of equipment around while visiting customers is inconvenient. However, you need to gather vital information. On such occasions, the MEC880 is your best choice.

Rolled paper eliminates the need to put page numbers (on each page)
Using sheet paper requires the addition of page numbers, so that sheets will not get lost. This is time-consuming. Using rolled paper means that you won 't need to spend time adding page numbers, but can still indicate the page order.

Capture printed matter
You need a photocopy of a newspaper or other printed material, but no copier is available. The MEC880 makes it easy for you to take a picture.
¡@

Photographing structures
You can take pictures of electronic devices, printed circuits, and units. (See also "Print Color B and D".)
---
Specifications
Optics Lens
Focus distance
8mm fixed
Stop
approx. F5.0 fixed
CD components for taking pictures
Image element
512 (H) ¡Ñ 582 (V)
Tone
5-tone
Shutter speed
1 / 6seconds (when in NORM mode)
Image memory
4M bit DRAM
Functions
Scan Modes
Two types
NORM
Shutter speed 1 / 6seconds

SL and SGL

¡@

Shutter is opened when START is pressed, and remains open units START is pressed again.

Print Color Mode
Three types
BRIGHT
Print black where the original is bright
DARK
Print black where the original is dark

B and D

¡@

Print black where the original is either bright or dark, and print white the original is neither

Multilayer capture
Number of layers
Unlimited
Print density
Setting level
Seven level

Auto power ON and OFF

¡@

Turns ON when any key is pressed, and OFF three minutes after printing out or after the last key operation.

Warning messages
Four types
INTEN
Subject is too bright
Batteries exhausted
No Paper

¡@

Printer head overheated
(Warning at 80ºC or higher, and recovery at 60ºC or lower)

Battery charging

Operation

¡@

When using the AC adapter, the batteries may be charged regardless of whether the auto power ON and OFF function is turned on or not

Charging time
Three-hour quick charging

Indication

¡@

¡@

When charging, the LED indicator that indicates that the batteries are dead shows a red light ; however, this light will go OFF when charging is completed. This indicator is available only when auto power is set.

FEED
Feed paper of the printer
Printer parts
Printing method
Thermal line-dot method
Paper
80mm-wide thermal paper
Output duration
approx. 20seconds
General characteristics
Operating temperature
+5 to +40ºC
Storage temperature
-10 to 60ºC

Power supply

¡@

Built-in : NiCd batteries (1.2V) Five cells
External : DC 9V / 3A

Weight
approx. 1.2kg (including hood and rolled paper)
Dimensions
131 (W) ¡Ñ 100 (H) ¡Ñ 128 (D) mm (excluding camera hood and projection)
Accessories
Instruction manual, NiCd batteries
Camera hood (optional)
Easy to attach. From eight different kinds of hoods, you can choose the one that best matches the size of your screen.
Motel
Size (inside)
M85-16
100 ¡Ñ 125mm
M85-18
117 ¡Ñ 117mm
M85-21
144mmØ
M85-23
108 ¡Ñ 122mm
M85-24
107 ¡Ñ 130mm
M85-25
118 ¡Ñ 140mm
M85-26
109 ¡Ñ 138mm
M85-27
130 ¡Ñ 142mm

AC adapter (M840) (optional)
Use as an external power supply or to charge the built-in batteries.

---

Power input
AC 90 to 132V, 47 to 63Hz
Power output
DC 9V / 3A
Dimensions
76 (W) ¡Ñ 46 (H) ¡Ñ 120 (D) mm

Printer paper (optional)

In addition to the regular uncoated type, a scratch-free overcoat type is available. This latter type is alcohol and waterproof, and flawless when used with other stationeries. Each type can take about 270 pictures.

---

Model
Description
M820
uncoated type
M821
overcoat type
NiCd batteries (M830) (optional)
A five-cell 6V / 1000mA set is included in the package. Change the batteries when go dead.

---
Products list | brand | Model No. | Home