4030 Ripple and Noise Meter GPIB,ARS-232C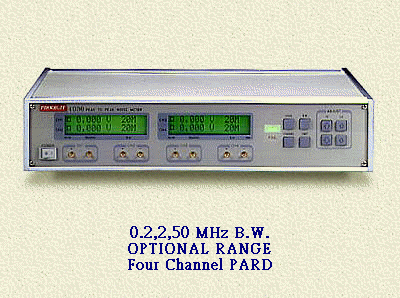 ¡@
Features
Applications
0.2, B2, B50Mhz Bandwidth.
AC/DC Power supply.
GO/NG on each channel.
DC/DC Power supply.
PASS/FAIL on Four Channel.
R&D.
Quad Reading LCD display.
ATE
Last setting memory.
Production.
Descriptions

The 4030 is designed to measure AC/DC or DC/DC power supply, PARD date, PARD testing can be performed for up to four independent outputs simultaneously.
PARD is the Periodic and Random Deviation of the DC output voltage from its average value, PARD is a crucial specification for most power supply applications.
The bandwidth can be programmed to 0.2, 2, or 50 Mhz, which is -3dB at rate voltage level. A highly visible LED PASS/FAIL indicator makes this to well suited for Production Line or Quality Control applications.
¡@
Specifications
Full Scale Range
Standard (3.0V p-p)
Option (1.5V p-p)
Option (0.75V p-p)
Bandwidth @ - 3dB
0.2. 2. 50 MHz
Measuring Range
0 to ¡Ó 1.5Vp
0 to ¡Ó 0.75Vp
0 to ¡Ó 0.357Vp
Accuracy
1% reading + 30mV
1% reading + 15mV
Resolution
1mV. 15 Bit
Input
DC 200V (250V peak)
Max. DC Voltage
50 Ohm Differential
Impedance Connector
SMB Coaxial Connector
¡@
General
Accessories
AC Power : 115/230Vac¡Ó10%, 50/60Hz.
AC Power Cord 1pc.
Weight : 8.0Kg.
45cm SMB Cable 8pcs.
Dimension: 420Wx88Hx325Dmm.
SMB connector 8pcs.
¡@
Operation Manual 1pc.
Options
1.5 Vp-p Max. Range.
0.75 Vp-p Max. Range.
PC Testing Fixture.
19" Rack Mount Kit.
Products list | brand | Model No. | Home