Audio Sweeper 7116C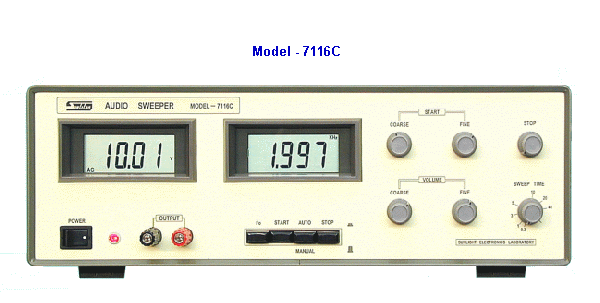 Features :

Use for Testing the spurious noise of the loudspeaker、headphone、loudspeaker system ... etc., suitable for use in production line、 R&D、 quality control and incoming parts inspection department.

Low Distortion Sine Wave.

.

THD≦0.15%, 20Hz~20 kHz. Best suitable for testing the spurious noise of the SPK and other electro acoustic components.

Digital Display Voltmeter and Frequency Counter. complies the need for precise test.

Has both manual and auto logarithmic sweeps. Allows random setting of start /stop frequency for sweep range.

Simple to operate. non-experts can operate.

Four kinds of built-in power amplifier.

which are optional to buy. ( 20W, 60W, 100W & 200W ). All designed with triple protection circuitries which permit long-term short circuit.

 

High resolution ( 0.001V ) voltmeter:

Low voltage needed in testing the receiver & headphone can be obtained precisely by using coarse & fine volume control.

With the supplement of frequency fine adjustment, the precise lowest resonant Fo value of Loudspeaker can be easily obtained.

 

 

Excellent reliability :

With the accumulation of more than 20 years experience in professional design, 7116C has ultra low faulty rate, high reliability, can sustain whole day continuous testing.

 
Specifications of Model - 7116C

Freq. Range : 20Hz ∼ 20 kHz in one range.

 

Freq. Response : ≦ ± 0.25dB, 20Hz ∼ 20 kHz.

 

Sweep Mode : Manually or automatic log. sweep in one range.

Setting spot ( random ) frequency also available.

 

Signal : Sine wave, THD ≦ 0.15%, ( 0.1% Typical.)

( 20Hz ∼ 20 kHz.)

 

Sweep Time: 0.3∼40 second continuously adjustable.

 

Frequency Counter : 4 digits display.

Resolution : 1 Hz.

Accuracy : ± 1 Hz.

Load Impedance : ≧ 2Ω.

Voltmeter : 3¾ digits , Auto-ranging

 

Low Range : 0.000v ∼3.300v.

Resolution : 0.001v

 

High Range : 3.300v ∼ 40.00v.

Resolution : 0.01v.

 

Accuracy : ± 0.6% of reading ± 2dgts.

 

Dimension : 36 (L) × 27 (D) × 13 (H) cm.

 

Net Weight :

7116C ( 20W ) : 6 KGS. ( Approx.)

7116C ( 60W ) : 8 KGS. ( Approx.)

7116C ( 100W ) : 10 KGS. ( Approx.)

7116C ( 200W ) : 19 KGS. ( Approx.)

 

Built-in Amplifier output voltage :

7116C ( 20W )
7116C ( 60W )
7116C ( 100W )
7116C ( 200W )
8 Ohms
0 ~ 12.6 V
0 ~ 22.0 V
0 ~ 28.3 V
0 ~ 40.0 V
4 Ohms
0 ~ 9.0 V
0 ~ 15.5 V
0 ~ 20.0 V
0 ~ 28.3 V