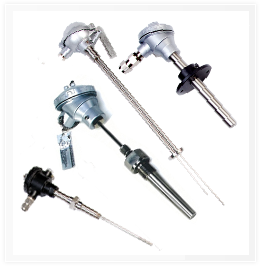 Base Metal Thermocouples
Technical Details

High accurate Thermocouples for variety of application
Type
J, K, T, E,
NElement size (MI)
1, 1.5, 3, 4.5, 6.8 (mm)
(Non-MI)
1.2, 1.6, 2, 2.5, 3.2 (mm)
Protection Sheath M
Seamless SS 316, SS 310, HRS 446,
INCONEL, Nickel, Hastalloy, Titanium, Ceramic, Silicon Carbide Monel etc.
Configuration
Simplex / Duplex / Multipoints
Tempsens offers three basic types of base metal thermocouples:- insulated wire, bare and ceramic insulated elements and thermocouples with protection tubes.The base-metal thermocouple covers the majority of applications within industry over a range of ¡V180¢XC to +1300¢XC.
Many variations of each type are available to meet your application needs. The bare wire and bead construction normally requires additional protection from the medium being measured. The mineral insulated system however can be used on its own, except in particularly severe conditions such as in aluminum or brass foundries.
Features:
* Insulated wire thermocouples are suitable for most general purpose applications.
* Bare and ceramic insulated elements, available in ASTM Types K and J, can be twisted or butt welded. Choices include straight or angle types, two- or four-hole insulators and single or dual element.
* Thermocouple with protection comes complete with head, block and protection tube. Several styles are available.
Applications:
Metal processing such as aluminum, zinc, brass (with appropriate protection tube)
Chemical Industry
Petrochemical Industry
Industrial storage tanks