PPA500 Series Precision Power Analyzers
High performance compact power analysis
The PPA500 joins Newtons4th's Precision Power Analyzer range addressing a need for high performance at low cost. Primarily aimed toward applications that require precision measurement without complex features, the PPA500 series is ideally suited to a production or test environment. The unit benefits from a full colour TFT display that provides greater flexibility than fixed numeric displays and combines a level of performance, ease of use and value beyond any comparable product.
Sharing many of the techniques utilised in the PPA1500 series, the PPA500 achieves a level of performance previously available only in much more costly instruments, while maintaining the intuitive operation and clarity of measurement presentation for which the PPA series has become renowned.
While being only half rack width and 2U high, the PPA500 is available in 1, 2 or 3 phase configurations. There is also the option to install the unit in a 19in rack where two units can be positioned side by side to provide a 2U 6 Phase solution see our accessories page for more details.
Features and benefits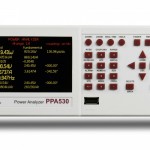 PPA530 Precision Power Analyzer
- 0.05% Basic accuracy
- Frequency range DC and 10mHz to 500kHz
- High precision internal shunts
Superior accuracy to any external shunt
- 10 millidegree phase accuracy – Necessary for low power factor applications
- 20 Arms (300 Apk) & 1000 Vrms (2500 Vpk) direct input
- Unique x10 gain mode for Standby Power measurement
- High speed sampling on all channels
- True real time analysis with no measurement gap
- 1, 2 or 3 phase versions
- High contrast full colour graphic display
- Simple BNC connection of N4L shunts for high current applications
- RS232, USB, LAN, Extension and Auxiliary ports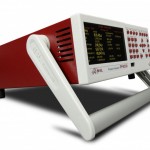 PPA530 Precision Power Analyzer
This product is designed, manufactured & supported in the UK. All measurements are traceable to UKAS, certificates of conformance and calibration are supplied as standard. Our products are CE marked.