VG-813 ¡@Portable video Signal Generator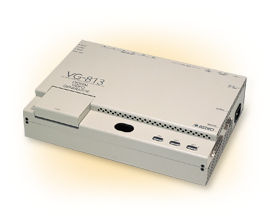 Up to 150 MHz, A4 portable
VG-813 is a more sophisticated version of the VG-812 model and is a A4 sized compact, lightweight and low-cost portable analog video signal generator that maintains compatibility with conventional analog output VG series (panel ROM) brought by the gate array developed by us. The horizontal timing setting accuracy is improved to 1 dot level for all the area, and high-speed drawing is supported. Thus, the unit can be widely used in various sites ranging from research and development departments to production line and/or service departments.
¡@
・Features
・ High cost performance
Dot clocks up to 150 MHz are supported. Compactness, low price, low power consumption are realized while providing high capabilities, by installing a gate array.
・ Setting accuracy as high as 1 dot level
Horizontal frequency setting accuracy as high as 1 dot is realized in all the band area covering 5 to 150 MHz.
・ Simplified operation
Very simple to operate; select a program No. and press the Execute key.
Operations similar to those with the upper models are available by using a remote box (RB-614C, optional) and operation box (RB-647, optional).
・ A wide variety of inspection patterns
Basic patterns (11 types including character, crosshatch, circle, color bar, gray scale, etc.)
supported by conventional features and special patterns (approx. 30 patterns preinstalled) can be used in the same manners.
・ Internal sample timing data
In addition to timings registered on the panel ROM, typical computer timings (40 types preinstalled) in a VG can be used to output patterns.
¡@
¡@
---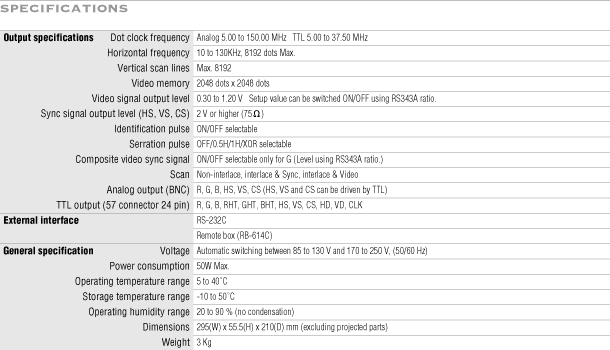 ---
Products list | brand | Model No. | Home