Type 1600RT Handset Measuring System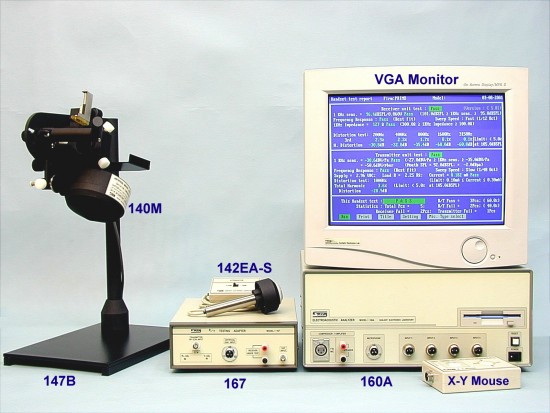 Main Functions
Since 1600RT is similar to 1600R and 1600T, the functions and specifications given on Type 1600R and Type 1600T are also applicable to 1600RT. Please refer to Type 1600R or Type 1600T
---
| Catalogue | Example of Testing Screen |
---
The fundamental combination of Type 1600RT

Item

Model No.

Description

Usage

1.

160 A

Electro acoustic Analyzer

Mainframe. To control and process the input、output signal.

2.

Monitor & Keyboard

High Resolution Color Display Monitor & Keyboard

Display the tested results & data and key in data. User may buy these two items at his local market, since price is cheaper and can save freight charge and import tax.

3.

167

R / T Testing Adapter

Combines with 160 or 170 mainframe, to test the frequency response curve sensitivity & impedance 、 distortion etc. characteristics of the receiver and transmitter.

4.

140 M

Artificial Mouth

Generates a flat and stable、precise sound field, for testing the "Transmitter".

5.

142 EA-S

(or 142 EK-S)

Artificial Ear ( 142 EA = IEC - 318 )

Receives the sound generated from the receive.

6.
147 B

Test Head

Sets the test angle and position of the artificial ear and mouth, to test the acoustic characteristics of the handset.

7.

X-Y Mouse

Mouse

Replace the upward, downward, leftward, rightward and enter keys on the keyboard.

8.

142 F

(Option)

Receiver Test Fixture

Accommodates the artificial ear , & provides a simulating ear cap to test the receiver.

9.

154 F

( Option)

H. A. C. Test Fixture

Complies with U.S.A EIA RS 504 standard, used to test the axial、radial magnetic field intensities and their freq. response curves of the telephone.

10.

HP Printer

(Option)

Printer (All the HP DeskJet or HP Laser Printers that are supported by DOS can all be used.)

Print out the tested results & data.
Functions and Specifications of Type 1600 RT
Note: Data and curves measured by 1600RT may differ from those measured by 1600R or 1600T. This is caused by the difference in acoustic impedance.
For example, the receiver is put into the handset so that the real ear cap is used for measurement in the case of 1600RT. However, a simulated ear cap provided by 142F is used in the case of 1600R. The difference in the acoustic impedance of ear caps will result difference in measured data and curves. Same reason is also applicable to transmitter measurement (in this case, mouth-piece).
(1) Since 1600RT is similar to 1600R and 1600T, the functions and specifications given on Type 1600R and Type 1600T are also applicable to 1600RT. Please refer to Type 1600R or Type 1600T.
(2) One exception is that the magnetic field test, as described in item 7 of Type 1600R, can not be performed. This is due to the composition of 1600 RT includes 147B which does not have the capability of magnetic field test. The magnetic field of a H.A.C. receiver can be measured if 142F or 154F (as options) is added.
---
Products list | brand | Model No. | Home